Nina Bode is de winnares van de Master scriptieprijsvraag Visies op Vrede 2014! De jury prees haar kritische en goed uitgewerkte analyse van het onderwerp geweld en gender, die zowel voor academici als voor beleidsmakers van groot belang is.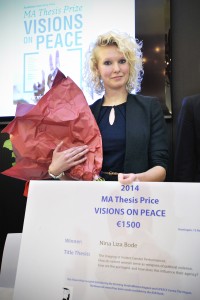 Het volledige juryrapport is hier te downloaden: Speech on behalf of the jury 2014
De winnende scriptie is hier te downloaden: MA Thesis The Imaging of Violent Gender Performances Nina Bode
SVW bedankt Dr. Tanja Aalberts, Dr. Sami Faltas en Dr. Hans de Wit voor hun deelname aan de jury, en Petra van der Ham (UPEACE), Ingrid Sennema (Rijksuniversiteit Groningen) en natuurlijk de ASN Foundation voor het mogelijk maken van de prijsuitreiking in 2014.