De scriptieprijs Visies op Vrede 2013 is gewonnen door Eveline Wong met haar scriptie "Too Much to Govern. Agency, Governance and Governmentalities in Palestinian Refugee Camps in Lebanon", die zij schreef voor de Master International Development Studies aan de Universiteit van Amsterdam. In haar scriptie beschrijft Eveline Wong de marginale positie van Palestijnse vluchtelingen in Libanon en hun initiatieven tot zelforganisatie in de vluchtelingenkampen waar zij vaak al decennialang verblijven. De jury was vooral onder de indruk van de kwaliteit van het veldwerk dat ten grondslag lag aan de scriptie, en de manier waarop de studente over het soms uitdagende onderzoeksproces heeft gerapporteerd.
De prijs werd symbolisch uitgereikt door Ewoud Goudswaard, algemeen directeur van de ASN Bank, die de prijs financieel mogelijk maakt.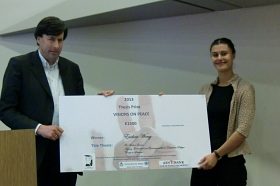 Hieronder volgt een samenvatting van elk van de vier genomineerde scripties, alsmede de toespraken van juryvoorzitter Tanja Aalberts en UPEACE voorzitter Marius Enthoven.
Summary_Thesis_Eveline_Wong
Summary_Thesis_Jan_Apperloo
Summary_Thesis_Niels_Terpstra
Summary_Thesis_Toon_Dirkx
Speech_Jury_Thesis_Prize_4.12.2013 Closing_remarks_Visions_on_Peace_Enthoven_4.12.13