Is your Master's thesis on peace and security issues? If so, you can compete for the thesis prize ''VISIONS ON PEACE'' 2017 and win 1000 Euro!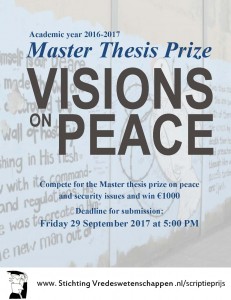 Criteria for participation:
The subject of your thesis must be related to peace and security issues;
You are attending or have attended a Master programme at a Dutch university or at another institution of higher education in the Netherlands;
You have completed your thesis between 1 July 2016 and 1 September 2017;
Your thesis was awarded a minimum grade of 8;
Your thesis is written in correct English or Dutch;
It is the first time that you participate in the "Visions on Peace" thesis competition.
Application procedure:
Fill out the Application form and collect the following documents:
A summary in English with a maximum of 1000 words (anonymous)
A table of contents (anonymous)
The full thesis (anonymous)
Proof of sufficient grade (at least 8)
To ensure that the assessment of the jury is as objective as possible, do not include any personal details of yourself, your supervisor(s) or your university in the summary, table of contents or the full thesis.
Make sure to pay sufficient attention to your summary, this is the basis on which the jury makes the first selection!
Your summary should include:
The title of the thesis;
The research question, the purpose of your research, research method and conclusions;
The social and scientific relevance of your thesis.
If the above mentioned criteria are not met, the thesis will not be taken into consideration.
The jury will not provide individual feedback on the selection process.
Send the application form and the required documents before Friday 29 September 2017, 5 PM Dutch time (final deadline!) to visionsonpeace2017@gmail.com.
The nominees for 2017 have been announced here.
The prize will be awarded in December 2017 at the Vrije Universiteit Amsterdam on Friday 15 December. The nominees will give a short presentation of their research. For more information and registration, see symposium 2017. All presentations will be held in English.
Achtergrond
Sinds 2008 organiseert Stichting Vredeswetenschappen jaarlijks een scriptieprijsvraag.
De scriptieprijs is bedoeld om onderzoek van studenten aan universiteiten en hogescholen naar vrede en veiligheid te bevorderen, en gericht op (ex-)studenten van een master aan een Nederlandse universiteit of hogeschool.
De winnaar van de scriptieprijs 2016 was:
Johannes Chinchilla:
"Growing Sustainable Peace: Starting at the Roots?"
University of Amsterdam, International Development Studies
zie samenvatting-scriptie-johannes-chinchilla
De overige genomineerden waren:
Melanie van der Lem: "The Divergent Trajectories of Corporation – Community Mining Conflicts in Peru"
Leiden University, Politics, Conflict and Cooperation
zie samenvatting-scriptie-melanie-van-der-lem
Marieke Schöning:
"To be or not to be political: Questions to international development discourse through an investigation of active youth citizenship among young, educated Syrians in Beirut"
University of Amsterdam, International Development Studies
zie samenvatting-scriptie-marieke-schoening
De scriptieprijs werd uitgereikt door Ewoud Goudswaard, directeur van de ASN Bank, tijdens het jaarlijkse SVW symposium, samen met de HBO Peace in Practice Award. De jury bestond in 2016 uit Tom Sauer (voorzitter, Universiteit Antwerpen), Erin Wilson (Rijksuniversiteit Groningen), en Lidewyde Berckmoes (NSCR Amsterdam). Zie juryrapport-scriptieprijs-visions-on-peace-2016 voor hun beoordeling.
De winnares van de WO Scriptieprijs Visions on Peace 2015 was Bareez Majid met haar scriptie "In Order Not to Forget" –  A Critical Study of the Iraqi-Kurdish Museum of Amna Suraka, voltooid aan de Universiteit Leiden bij Middle Eastern Studies. Haar samenvatting is hier te lezen: Summary MA Thesis Bareez Majid.
De winnares van 2014 was Nina Bode. In 2013 won Eveline Wong.